I was off today and didn't do much at all. I caught up on recorded "House" episodes, watched "
The Ascent of Money
", which I recommend highly to anyone trying to grasp the financial situation our world is in today, and cleaned out my email inbox.
Dinner was carne picada cooked in a skillet with some spices and topped with cheese. DH had his in a sandwich and I ate mine plain with a side salad. It was simple and good.
Here's tomorrow's lunch: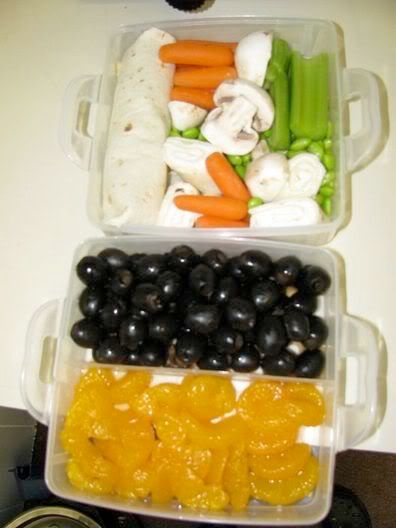 The top tier is a whole beef, cheese, and onion wrap, a sliced spicy cream cheese wrap (both wraps made with low carb tortillas) about 1/2 a cup of edamame, celery, baby carrots, and mushrooms. I also have a sidecar of
artichoke dip
. The bottom tier is black olives and mandarin orange, most of which I won't eat. This is a lot of food but it will be used for break and lunch and I generally share with whoever needs a snack.
Okay, time for bed. I'm tired and have to get up at 5:30.