Perhaps the Japanese bento style lunch isn't what I really need but something like
laptop lunch
, the Americanized version, just might be the ticket. Yesterday I found a sweet little box on clearance for less than $2. It isn't an LL box but it will work so I snagged it and last night I filled it. It can't be microwaved but I'm more of a take-it-out-of-the-fridge-and-let-it-sit-on-the-counter-for-half-an-hour kinda girl, anyway.
Okay, keep in mind that I'm new to a) my camera and b) packing a meal that looks halfway decent (throw it in a container, screw a lid on, and go is my norm) so be gentle with me! Also, remember that I eat low carb most of the time so while I might occasionally have a little bit of potato, rice, or fruit, one third of my lunch won't be carbs! Most of it will be lower starch vegetables with a little meat and a dab of carb thrown in for good measure.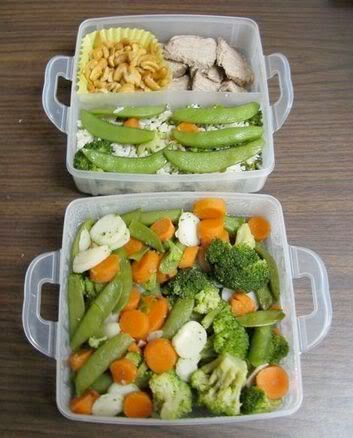 The top layer is dry roasted cashews, leftover beef roast, and broccoli with 2 Tbsp of rice thrown in for texture and a garnish of carrot and sugar snap peas. The bottom layer is a medley of broccoli, sugar snap peas, carrots and water chestnuts. I also have a sidecar of celery and a delicious dip of mayonnaise, artichoke heart, and seasonings for my snack.
I know, that's a lot of broccoli and green stuff in general but that's how I like it. I guess what I'm going to do for awhile uses neither bento "rules" or equipment or laptop lunch equipment but it will be Denise's Lunch On The Go. ;)
I still want to have a genuine bento box and want to try making the contents appealing but in the meantime, this will get me going in my efforts to eat better at work. And that's my main goal with wasting less being another goal.