This is just a quickie post about our lunch today. My other half likes okra and tomatoes so I made him some with okra from the garden.
Speaking of the garden, this is what we got from it today. Considering all the rain and the fact that most of the plants have just flooded to death, I'm happy for this!
To make the okra and tomatoes I just dumped a drained can of whole tomatoes, five sliced fresh and tender okra pods, garlic powder, salt, and pepper into a sauce pan, covered it, and let it cook on a very low flame for about an hour. I stirred it now and then to make sure there wasn't any sticking to the pan but other than that, I pretty much ignored it.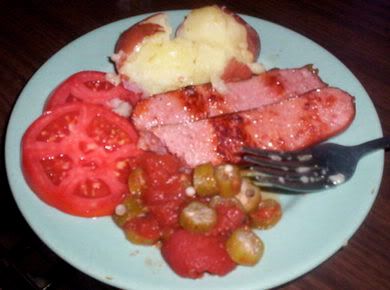 So our lunch was very good, thrifty, and simple. We had pan fried turkey smoked sausage, baked new potato with a little butter, salt and pepper, sliced tomato and okra and tomato.
I like simple and easy meals like this, especially in the heat of the summer.
What's your favorite hot weather meal?