Last night's dinner wasn't too exciting - we had the roast and vegetables cooked in the electric pressure cooker. They were great, though. The roast was fork tender and the vegetables were just right.
My other half's cousin showed up today from Louisiana and his impromptu visit reminded me of one of the reasons I keep a well stocked pantry. It's great to know that you can feed unexpected company, whether it's one person or ten!
Tonight's dinner was linguine with homemade sauce, green beans, sliced tomatoes, and homemade cheese garlic sticks.
I often make pasta dishes (and other dishes) with ground turkey. We prefer it over beef and when it's on sale we buy a lot of it. So tonight's dinner was made with ground turkey. A lot of people don't like the texture of it but we've found that if you cook it in a little water, it breaks up easier and the texture ends up being more like ground beef.
Here's the ground turkey cooking in a little water. When it's done, I drain the water, return the turkey to the wok, add one can of Italian stewed tomatoes, a jar of tomato sauce, and some canned mushrooms. To that I add some garlic powder or minced garlic, a bit of oregano and basil, and stir it all well. Then I let it simmer on a low flame for awhile.
Here's the sauce as it's cooking down. Yum! About 10 minutes before the sauce is ready, I cook the pasta (tonight it's whole wheat linguine) in water with just a bit of EVOO added, then drain it and dab a little butter on it.
While the sauce was cooking down I whipped up the
cheese sticks
using plenty of minced garlic, mozzarella and cheddar, and just a dash of basil. I didn't bother to roll them out;instead I just patted the dough down, pricked it all over with a fork, cut it into strips the size we like and baked them at 375.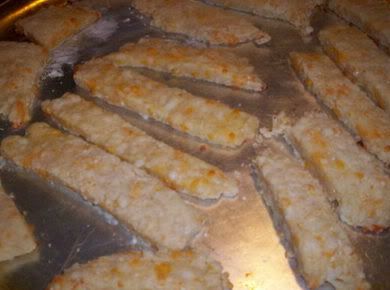 We don't like ours very brown and we like them a little doughy so I baked them for about 10 minutes.
The linguine was a hit and so were the bread sticks. It's all gone so no leftovers for tomorrow's lunch. Hmm, we'll more than likely have smoked sausage sandwiches on toasted bread, fresh corn on the cob, and sliced tomatoes.