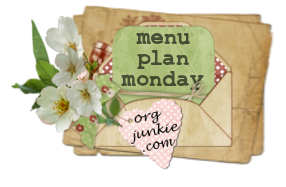 This week's menu isn't particularly exciting (is mine ever??) but it's thrifty and low in carbs. For the most part. Last night, Sunday, we went to Wingstop and I indulged in garlic parmesan wings and a few of their addictive fries. My insulin dose must have been right on, though, because two hours after eating, my blood sugar was 84. And this morning my FBG was 95. Woot! The addition of Lantus to my insulin regimen helps a lot, too. It's been five days since I've been back on Lantus and my blood sugar is so much better it's amazing.
On to this week's eats!
So, tonight for dinner we're having roasted chicken, a nice salad, and steamed spinach. I don't get off until 6 PM so it will be a late-for-us dinner but a good one.
The rest of the week we'll have, in no particular order:
Chicken salad sandwiches/lettuce leaf wraps made with leftover roasted chicken
Zucchini lasagna
with salad, Carbquick bread sticks, and steamed green beans
Hearty vegetable soup with the remaining bread sticks
Meat loaf, salad, and
zucchini and red pepper "fries"
YOYO (You're On Your Own) night when we dig through the fridge eating leftovers
And that's it for this coming week's dinners. For more great menu ideas, visit Laura's
Menu Plan Monday
and jump right in.
Have a great week and enjoy your food!