I was in the mood for a little
Tex Mex
cuisine before I headed to work this afternoon so I whipped up a very fast and easy dish, similar to the
Enchilada Stack
I make now and then but requires less fuss. The recipe makes enough for two adults to have two servings with enough leftovers for another meal for at least one person. From start to finish this takes about 25 minutes and if the ingredients are bought at the right prices it's very inexpensive to make. In addition, it's fairly low in carbs! It's also great for get togethers and church functions and a lot of it can be prepared in a short period of time.
Spicy Enchilada Casserole
1 lb ground meat (I used turkey sausage today)
onion to taste
1 package taco sauce (I used some off brand purchased for .22 cents)
3/4 cup water
Crushed red pepper to taste
small can of green chiles, drained
2 cups shredded cheese (I used Monterey Jack, Pepper Jack & Sharp Cheddar)
10 ounces enchilada sauce, red or green
4 or 5 tortillas (I used La Tortilla Factory low carb tortillas)
Chili powder
Brown the meat with the onion. Drain grease if there is any and add crushed red pepper, green chiles, taco seasoning mix, and 3/4 cup water. Let simmer about 15 minutes then remove from heat.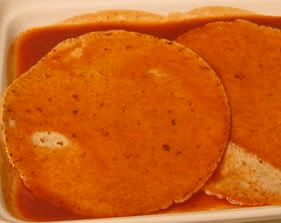 Coat the bottom of baking dish with enchilada sauce. Place two tortillas in then turn them over to ensure both sides have sauce.
Pour a little less than half of the meat mixture onto the tortillas and spread fairly evenly. (Perfection isn't necessary because cheese hides a multitude of sins in Tex Mex cooking!) Spread a little less than half of the cheese on the meat. Top with two more tortillas, more enchilada sauce, and more cheese, spreading the cheese around the top of the sauce.
Sprinkle lightly with chili powder.
Bake at 350 for about 15 minutes or until cheese is melted. Remove from oven, cut into squares and enjoy with toppings of your choice.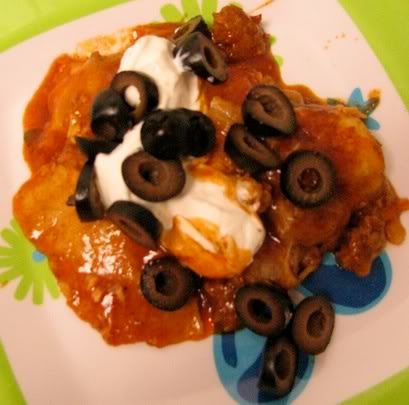 Today I used sour cream and black olives. Excellent!