This last weekend we made a run to LA (read that as Louisiana, not Los Angeles) to see one of Rod's aging relatives. His aunt Joyce is almost 87 and is the sweetest thing alive, I think. Her health is starting to deteriorate and his cousin called us Saturday morning to let us know she wasn't doing well so after we closed the shop we headed that way to spend some time with her. We had a nice visit but she kept trying to cook for us! Ahhh, that southern hospitality just never ceases! She really is a very gracious and loving woman and the visit was nice.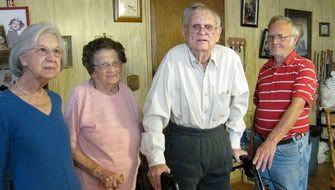 From left, Gloria (wife to Kenneth), Joyce (almost 87), Kenneth (93) and Terry (Joyce's son)
We found out while visiting that the
Battle of Pleasant Hill re-enactment
would take place just a few miles from where we were staying so when we left Sunday, we stopped by there. That was the first re-enactment I've ever seen and it was a lot of fun. But was it ever noisy!
Here's "the boss" riding into the fray at the re-enactment.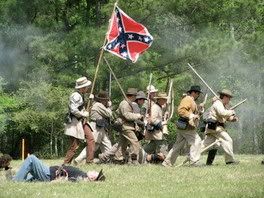 And here's the flag, flyin' high!
And here's those damn yankees! They'd been adding to the noise pollution. ;)
And this is one of the women at the re-enactment. Talk about out of place!
Anyway, we had a nice time and the weather, though a little too windy, was great for such an event. The local scenery is lovely, too. You can see woods, a few hills, and even swamp! By the way, Pleasant Hill, Louisiana is just a little spot in the road now. It has a few shops, a funky little grocery and the battle park but there's nothing there today that would let a person know it was once a resort type of town with upper crust land owners, a school for girls, and a college for boys! It just goes to show you something but I'm not sure what...
If you haven't ever been to a re-enactment, you should try it. And take the kids! It's a good opportunity to learn a little about history.