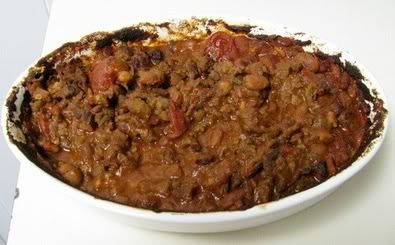 Last night's dinner was Baked Chunky Carne Picada Chili made from carne picada I cooked for a meal last week. Making chili with it was so easy and since the meat was already cooked it was also very quick. I use the same basic recipe every time I make chili and although I made this version a little thicker than I normally do, it was made in my standard way.
Baked Chunky Carne Picada Chili
In a large bowl mix one can of beans (I used ranch style beans), one small can of chopped green chiles, and one can of tomatoes, whatever kind you prefer. Add cooked carne picada (I used about 2 cups), chili powder to taste, a little garlic powder, and cumin, and whatever other spices you like. Mix well and put in an oven safe dish. Bake at 300 degrees for about 20 minutes or until heated through. Top with shredded cheese, chopped green onions, sliced black olives or other favorite chili toppings.
Unfortunately, this isn't a very low carb dish so I didn't eat much of it, just enough to get my fill along with some salad. It was very good, though, and the man person had two bowls of it. There's plenty left so we'll have it tomorrow for lunch and anything left after that will get frozen.