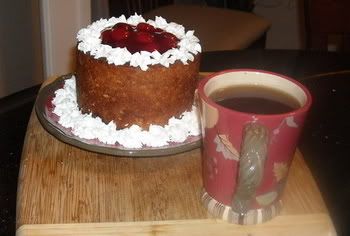 My sister made this beautiful but easy dessert featuring
Cook's Choice
products and I wanted to share it with readers. No, it isn't low carb so I didn't eat any but I can guarantee that if it weren't for my Diabetes, I'd have eaten a little (or a lot!) of it. I think this would be great for get togethers of any sort or just as a nice treat once in awhile.
Cherry Cobbler Bowl
This recipe yields two 5" bowls, six
3" bowls
, or one
loaf bowl
1 can
Cook's Choice Cobbler Mix
1 1/2 cups cold milk
1 21 oz can of cherry pie filling (or any flavor you prefer)
1 can of aerosol whipped cream
1 Cook's Choice
5" Gourmet Bowl Maker
Preheat oven to 375.
Spray the bowl maker thoroughly with a cooking spray with flour. Stir the batter mix and the milk in a medium to large mixing bowl. Pour the mix into the sprayed bowl maker filling only to the fill line as the batter will rise.
Bake for 30-35 minutes or until the top of the cobbler bowl is golden brown. Remove from oven and cool for 5 minutes.
Turn the bowl maker upside down on wax paper. Shake the bowl maker slightly to loosen the cobbler. Do not force the cobbler bowl out of the pan. You can tap lightly on the bottom of the pan with a wooden spoon if you need to. Once the cobbler bowl has slid out of the pan, turn it upside down. Pour the filling mix in a small sauce pan and warm slightly then pour it into the cobbler bowl.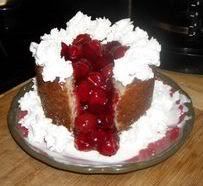 When the cobbler bowl has cooled completely, decorate with whipped cream and serve.
This can be made ahead, warmed in a microwave, and decorated just before serving.
So there, a "fancy schmancy" but easy dessert idea for you. :)