I got hungry awhile ago and stuffed mushrooms sounded good so I prepared some. The recipe I use is easy and simple and requires no hard to find ingredients. From beginning to end, it takes about 25 minutes and the resulting treat is worth the little bit of work. The recipe is easy to adapt, too, so substituting ingredients is a snap. As written below, each mushroom has about half a gram of carbohydrate so take two (or three, or four...), they're small.
5 mushrooms with caps removed, stems saved
2 or 3 slices bacon (I use turkey bacon)
1/3 to 1/2 stalk of celery, finely diced
1 green onion, top and all, finely diced
A little oil or butter (I use a combination of both)
About half a cup of cheese, shredded (I used mozzarella and sharp cheddar)
Any spices you might desire such as salt, pepper, finely diced garlic, etc.
Cook, cool, and break into small pieces the 3 slices of bacon and put into a medium bowl. I cook mine in the microwave as it takes about 4 minutes and creates no mess.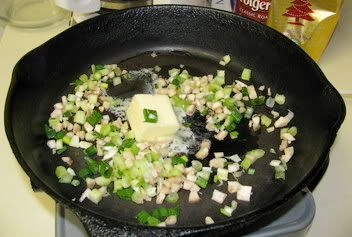 Finely dice the mushroom stems, celery, and onion, and sautee in olive oil or butter until tender.
Add the vegetable mixture to the bacon in the bowl and mix well. Add cheese and seasonings and mix well.
Stuff this into the mushroom caps and bake in 350 degree oven for about 15 minutes or until the cheese is melted.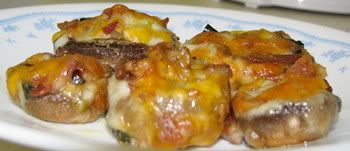 I like them very hot and well cooked!
This recipe is very good with different meats such as breakfast sausage or finely diced chicken. Or you can just leave the meat out. I like to experiment with other vegetables such as diced black olives, capers, or pimientos but this morning I just wanted a quick stuffed mushroom fix! If there's any of the vegetable cheese mixture remaining after the caps are stuffed, I just eat it with a fork. :)
Enjoy!