So this is a little late but today, the second Monday in January, is
National Clean Off Your Desk Day
. While I don't find this particular holiday to be exciting or even fun it
is
a little more practical than most holidays so I actually observe it. ;) Well okay, not really observe it but I did clean off my desk today. It wasn't a mess and has seen much messier days but seeing as how today was a holiday, I tidied it up a bit.
Here's my desk before:
And here it is after: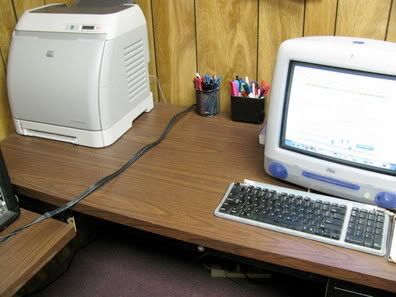 Yeah, there's still a black cable running over my desk even after cleaning but that's okay. I can deal with that as long as the rest of it is neat.
Although the day is almost over, if you haven't cleaned off your desk give it a quick neatening. You'll be glad you did.
Hmm, too bad there isn't a National Clean Under Your Desk Day. Or is there?