I kinda sorta made
Ray's 3 Envelope Roast
today using beef rump roast and as I expected, it didn't disappoint! I didn't have the Italian salad dressing mix (and after our almost $90 shopping excursion this morning wasn't about to go buy any) so I made do with the two envelopes I had on hand. This is the third time I've made this with
some variation
and each time it turns out perfect, the best beef roast I've ever had. If you haven't tried this, you really should. It's easy and even the cheapest, toughest roast comes out tender and tasty.
So, here's how I made the roast: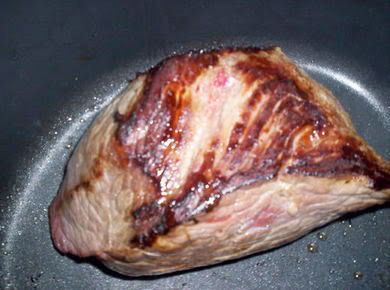 First, I browned a three pound rump roast in the Cook's Essentials digital 8 quart pressure cooker. While it was browning I mixed 1 cup of water, 1 envelope of brown gravy mix, 1 envelope of ranch dressing mix and 1/2 teaspoon of Spike seasoning until smooth then poured it over the roast, put the lid on, and set the timer for 40 minutes. When the timer went off, I used quick release and added cut up red potatoes, celery, onions and whole baby carrots and a small hand full of frozen mixed broccoli and cauliflower and set the timer for another 16 minutes.
The resulting dish was perfect. The gravy was savory, the meat very tender, and the vegetables were soft but not at all overcooked. Unfortunately, the man person beat me to the roast before I could get a picture of it so what you see above is the roast and vegetables after he got to them. I'll have to hide some of the stuff to use later this week in the beef pot pie I have planned!