will still taste as great! That's what I say about these wonderful and easy to make treats that the More-With-Less Cookbook calls "Cheese Sticks".
I first made these back in the mid-80s and they quickly became a favorite in our house. My sons really liked the flavor and I liked the fact that they're economical, wholesome, and so easy to make that I can make a double or triple batch in less than 30 minutes from start to finish.
I don't worry about how they look because no one here cares what they look like and they don't last long enough to even think about it. But you can make them look as pretty and neat as you want by using cookie cutters, cutting straight lines, poking the holes in an even pattern, cutting each square in half diagonally to form triangles, etc. I just roll the dough out, poke it, cut it with a sharp knife, plop it on the baking sheet and bake it.
So here's the recipe for Cheese Sticks from the More-With-Less Cookbook.
Combine:
1 cup grated sharp cheddar cheese (I use 1 1/2 to 2 cups)
1/2 tsp salt and dash pepper
1 1/4 cup flour (whole wheat works well)
Cut in with pastry blender:
1/3 cup butter (margarine works, too)
Sprinkle with:
3 Tbsp milk (water works as does chicken broth)
Toss with fork. Form into ball. Preheat oven to 375.
Turn dough onto floured surface and roll out 1/8 inch thick. Sprinkle liberally with sesame seeds (I don't use the seeds) and run rolling pin over dough. Prick dough all over with a fork.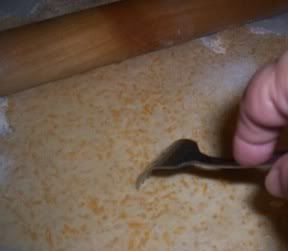 Cut into 1x2 sticks or 2 inch squares and then into triangles. Place on ungreased cookie sheet and bake 10 minutes or until golden.
I usually add a little garlic powder and some crushed red pepper to the mix and have made this with oregano, rosemary, basil and other spices. Also, if you roll the dough out thicker and shorten the baking time just a tad you have some very tasty mini-bread sticks!
This is a keeper of a recipe. Try it and let me know how your horde likes it.