I found this recipe at
Anita's Tried & True Low Fat Recipes
and I really like it for light summer eating. It's not only thrifty, it's very low in fat. I make it with whole wheat or soy pasta so it's easier on the blood sugar. I've made it with less chicken, too, and it's still very good. I've also made it with fajita beef and that's excellent.
Summer Pasta Salad
1/2 c fat-free mayonnaise
4 oz elbow macaroni, cooked and drained
1/4 c parmesan cheese (Asiago is wonderful)
1 c onion, chopped
3 Tbsp fat-free milk (powdered milk and a little water work fine)
1/2 tsp salt
9 oz chicken breast cubes, cooked
In a mixing bowl, combine mayonnaise, parmesan cheese, milk, chicken,
macaroni, onions, and salt. Mix well and chill several hours before serving.
If I have tomatoes and other goodies from the garden, they're quite likely to end up in this salad so it's a little different every time I make it.
Speaking of the garden, here's what we picked this morning.
We got two cabbages, a small handful of beans, a couple of tiny potatoes and a cucumber to go with the ones in the fridge! But look at that mound of tomatoes! They're so sweet and juicy! I just love 'em but my throat is still too raw to eat them. Hopefully soon I'll be able to dive into them. Until then I'll just have to admire them from afar.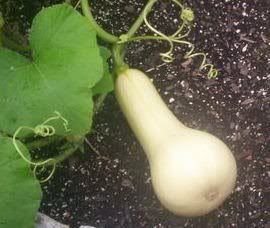 And here's the most recent photo of the one butternut squash that's growing. I hope it continues to grow well since I have plans for it. I love the stuff and it's been many years since I've eaten it. I'm not sure which way to prepare it so if you know of a good recipe for it, please share it with me!
The garden isn't doing as well as we'd hoped. Every one of the 17 tomato plants has something going on. They're producing but not as well as they should be and the plants are getting sickly. I'm not sure they'll survive long enough for the fruit to ripen. I emailed pictures of the plants and the fruit to the local extension office and hopefully they'll be able to give me an idea of what's going on. I'm going to get some fish emulsion today, though, and dose them with that to see if it helps.
The beets we planted produced but the roots were small. Tasty but small! We've picked them all and they're in the fridge. I'm the only one who eats them so they'll last me awhile. We're going to try another variety in the Fall garden.
The cucurbits are all doing well, though, and the corn, beans, and peas are growing nicely. We pulled the onions and they did pretty well but are a bit on the smallish side.
There's always another chance to plant in the fall, though, so we'll do it again and see what happens.