Have I mentioned how much I like slow cookers in the warmer months?
I really appreciate slow cookers and we have several. They all get used to some degree but the ones with a removable crock get the most attention. I like the convenience of them, yes. It doesn't get much better than throwing stuff in a pot, seasoning it, turning it on and walking away to come back to cooked food a few hours later. But really, a slow cooker is just a blessing in the summer time.
Just because it's hot doesn't mean we don't want roast with potatoes, carrots, and onions. And just because it's hot doesn't mean we don't yearn for something with a Tex-Mex flair. But I really don't want to turn on the oven for hours during these Texas summers, even when it's as mild as it has been this year. Slow cookers allow us to enjoy our favorite foods even when the temperatures soar and they allow us to do it relatively inexpensively. Not only can less expensive and tougher cuts of meat be made tender and tasty, the slow cooker doesn't heat the kitchen which is a real boon when it comes to our electric bill.
In light of those reasons and the fact that well...it just tastes good, tonight's dinner was slow cooker garlic chicken (some reserved for later in the week) served with buttered and seasoned Yukon potatoes and cabbage, both from the garden.
The chicken is so easy to make.
1 roasting chicken
Salt
Pepper
Paprika (I omitted this)
5 garlic cloves, mashed (I used minced garlic)
1/4 pound sweet butter (I used less than the called for amount and added a little EVOO)
1/4 to 1/2 cup canned chicken broth (I used broth from boiling a chicken a few days ago)
Sprinkle the chicken, inside and out, with salt, pepper and paprika. Spread half of the garlic in the cavity and spread the remainder on the outside of the chicken. Place the chicken into a slow cooker and place a few pats of butter on its breast. Add the remaining ingredients and cook on LOW for 6 to 8 hours.
Serve the hot garlic butter sauce with the chicken.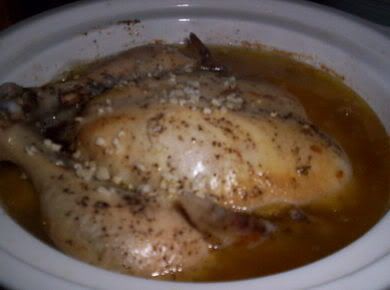 Here's the chicken, stewing in it's butter sauce.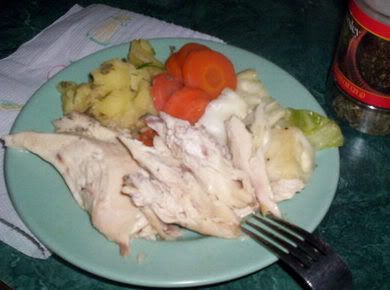 Slices of the garlic roasted chicken, potatoes with butter, garlic & chives, cabbage cooked in the wok, and carrots. The carrots weren't on the menu but I realized very late in the game that there was no color in this meal! So, I steamed some carrots to go with it.
Apparently color isn't something I consider most of the time when I plan a meal. No one here seems to care much about color (or at least they've never said anything about it) but I do need to work on appearance of meals.
At any rate, there you have it, tonight's meal. Some of the chicken will be saved and used in a few days, probably on Monday night.