We love gardening, especially when the garden starts producing. It's so satisfying to eat the things we've grown and the purple hull peas are no exception. Unfortunately, the rain we've had over the last six weeks has just about ruined our garden so we aren't getting much from it. However, over a period of several days we've picked enough purple hull peas to have our second small pot of them. So tonight's dinner was fresh peas and hot water cornbread.
I don't do anything special to the peas, just shell and rinse them and put them in a pot with enough water to cover them. I add some onion (one green onion, top and all, this time), a few chunks of turkey ham, a tsp of minced garlic, about 1/2 a tsp of Knorr's Chicken Bouillon, and pepper. Cook til tender and serve hot.
The hot water cornbread is something we don't eat often. It's way too high in carbohydrates and we rarely eat fried foods. But this cornbread is so good and seems made to go with fresh peas so we have it now and then.
Hot water cornbread
2 cups corn meal
1 1/2 cups boiling water
1/2 teaspoon salt (optional but I recommend this)
1/4 to 1/2 tsp sugar or other sweetener (optional)
vegetable oil to fry in
Put the corn meal, salt, and sugar in a bowl that can handle boiling water. I use a medium sized glass bowl. Pour the boiling water in slowly, stirring all the while until it makes a thick paste.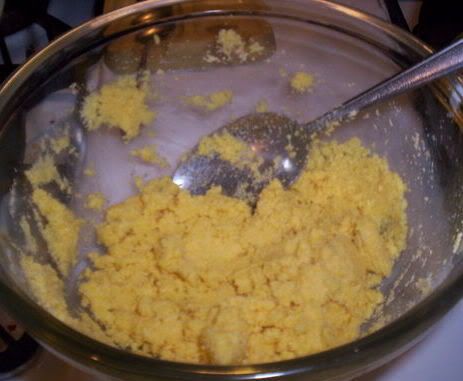 Use your hands (yes, it's hot but you get used to it) and form the paste into palm sized patties, slipping them carefully into hot oil (we use canola or EVOO) and fry to golden brown, turning once.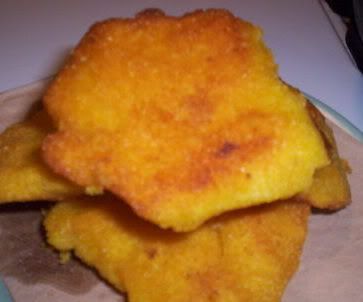 Drain on paper towels and serve hot.
Peas and hot water cornbread..as southern as can be, as thrifty as can be and so very simple and easy to make. I like to sprinkle a little freshly ground pepper on my hot water cornbread right as it's finished cooking. True comfort food...