is one of my favorite dishes, chicken roasted on the
Sittin' Chicken
. I still have the older version of the Sittin' Chicken, the one without the holes. I've heard that the new one is much better and I'll get one but until I do, my old one is sufficient.
I have to tell you that cooking a chicken this way produces the juiciest, most tender and flavorful chicken I've ever eaten, bar none. And vegetables cooked with the chicken are incredible! Even veggie haters often like them when cooked this way. I did something a little different tonight, though. Instead of putting the vegetables in at the beginning of the cooking as I usually do, I steamed the carrots and green beans for a few minutes and added them about 20 minutes before the chicken was done. The result was better than usual! The vegetables weren't at all dry and there was zero shriveling. They still looked garden fresh and had the great flavor of the seasoning I used on the chicken.
Here are a few pictures of the process to make a Sittin' Chicken:
I rinse and pat dry the chicken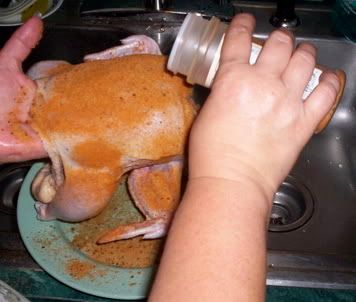 Then I season it. The seasoning used varies but today I used Cook's Choice Brisket Seasoning. We love the stuff on poultry!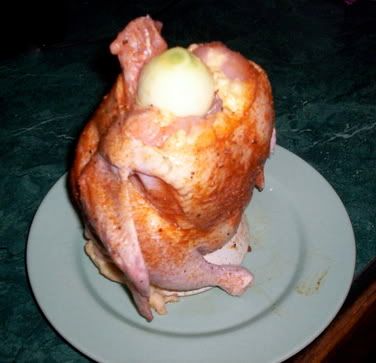 I spray the Sittin' Chicken well with vegetable spray. That makes the chicken oh so easy to remove and makes the Sittin' Chicken oh so easy to clean. Into the Sittin' Chicken I put about a cup and a half of water, some Knorr brand chicken bouillon, garlic powder, crushed red pepper and black pepper. After making sure it's well mixed, I plopped the bird onto the Sittin' Chicken and stuffed the end with a small onion fresh from the garden. I put it in 13 x9 baking pan, put some potatoes (canned since the bag of Yukon Golds we bought at the grocery store Friday apparently didn't make it home with us), carrots, and green beans in with it, seasoned those lightly with the Brisket Rub and put it all in a 350 degree oven.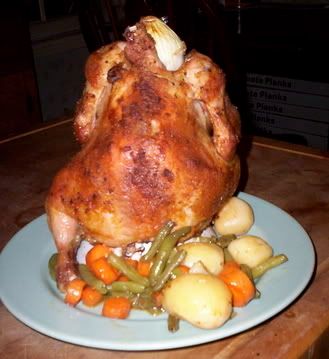 And here's the finished product - what a bird!