I got in from work at about 5:20 tonight and made the Farmhouse Beef Casserole I mentioned in
yesterday's entry
. It took a little while to prepare the ingredients but I did it while watching the tail end of the Cowboys/Eagles game (
take that, you Eagles
!) and the time passed quickly.
I like this dish but the man person said, and I quote:
"I wouldn't want that often but it wasn't bad."
He isn't really into casseroles for the most part so for him to really
like
any casserole is rare. Keep that in mind and don't let his words sway you into declaring this dish as "don't try".
Here are some things I really like about this dish; the thrifty ingredients, the great smell while it's cooking, and the fact that it's satisfying for the tummy. One thing I didn't like about it though; the taste was a little blander than what I like and I think it needs a little more something though I'm not sure what. I did make a few changes to the recipe and they're noted in parentheses after the original. My additional notes are after the recipe.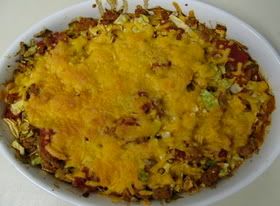 Farmhouse Beef Casserole
Olive oil cooking spray
1 small russet or all purpose potato
1 cup shredded low fat mozarella cheese (I used cheddar as I have a glut of it right now)
1 lb extra lean ground sirloin (I used ground turkey as I had it on hand and only used 1/2 lb)
1 medium yellow onion, chopped (I use about 1/4 of an onion but more would have been better)
2 cloves garlic, minced
1-14.5 oz can no salt added diced tomatoes with juice (See below)
1 Tbsp chili powder or to taste
2 cups shredded green cabbage (I don't shred cabbage, instead I just slice it thin then dice it)
salt (optional) (I used a little celery salt)
freshly ground black pepper
1-3 tbls purchased taco sauce (I omitted this)
6 slices pickled jalapeno chili peppers (optional) (I omitted this)
Preheat oven to 375 degrees. Lightly coat a 2 qt casserole dish with cooking spray. Peel and grate the potato into a bowl. Stir in 1/4 cup ot the cheese and spread evenly over the bottom of the prepared dish. Bake 15-20 minutes or until potato is browned and crispy. Meanwhile, brown ground sirloin, onion, and garlic in a large nonstick skillet, breaking up the beef with a wooden spoon as it browns. Discard any excess fat. Stir in tomatoes with their juice, chili powder and cabbage. Season with salt & pepper to taste. Saute, stirring for a minute or two. If mix seems too dry add 1 Tbsp of the bottled taco sauce, adding up to 2 Tbsp more, if needed. When potatoes are done, spoon beef mixture on top of potatoes. Top with remaining cheese and jalapeno slices (if using). Bake for 25-30 minutes till casserole is hot and bubbly. Serve at once.
Calories 235 (40% from fat), 24g protein, 11g total fat (4.8g sat. fat), 12g carb., 2 g fiber, 38mg cholesterol, 471mg potassium, 357mg sodium
Exchanges: 3 lean meat, 1 carb (1/2 bread/starch, 1-1/2 vegetable
Here's a picture of the crust, which I made according to the directions.
It's very good as is but I think to reduce the carb count I might try making it with shredded cauliflower. Since we need to be careful of fat and not just carbs, I used ground turkey breast instead of beef and since I don't have a stove I put the turkey, garlic and onion in my handy dandy Pampered Chef small
Micro-Cooker
(bought at a garage sale for a quarter!) and cooked it all for 4 minutes, stopping twice to break the meat up a little. When it was cooked through, I let it cool, strained it well, and used clean hands to break the meat up really well.
Since I was using only half the called for meat, I figured I needed a little less liquid than what the original recipe called for so I reserved the juice from the tomatoes rather than mixing it in with the meat and cabbage. I did use some of that juice a bit later but only about 1/3 of what was in the can.
From there I followed the original recipe.
I'll try this recipe again but with some changes. As I mentioned, I'll use cauliflower instead of potato and will use more onion than I did this time but I think I'll add a little bit of homemade taco seasoning to the meat, garlic, and onion to give it that extra flavor. I might even put a little pico de gallo on top, too.
All in all, this is a hearty dish and I think it's one that lends itself to versatility. If you don't have one of the ingredients, use something else. Make it your own and if you do, please share with me what you did! I'm always looking for inexpensive but flavorful recipes.