Lunch this afternoon was homemade vegetable soup, the last of the turkey tenderloin, seasoned with garlic pepper and basil and topped with homemade pico de gallo, and a delicious dessert made with sweet potato.
White and red potatoes spike my blood sugar but a moderate amount of sweet potato doesn't. I usually eat it with butter and pepper but today I've craved something sweet and decided to put my half of the sweet potato to good use. I didn't feel like doing a lot to it, though, so I came up with a simple and easy treat.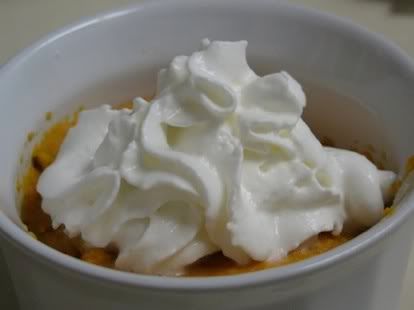 I baked the sweet potato and cut it in half. I mashed the potato, cut the peel in small pieces and added it to the potato. To that I added a splash of Half and Half and half a splash of vanilla extract. I mixed it all well, put it in a small bowl, and topped it with a dollop of Redi-Whip, one of my favorite
I need something sweet and need it now
things. It's almost carb free, doesn't spike my blood sugar (in moderation) and just plain ol' tastes good!
The resulting "pudding" was creamy, smooth, and just sweet enough. Next time I'll add a little cinnamon and maybe some cardamom or some cinnamon seasoned chopped walnuts but for a lower carb dessert on the fly this is awesome! And the best part is it was less than 15 grams of carbs.
If you like sweet potato and crave something a little sweet, try this idea and let me know what you think of it.