I've got a pretty good collection of samples and freebies going and Sara at
Learning the Frugal Life
inspired me to dig mine out for use.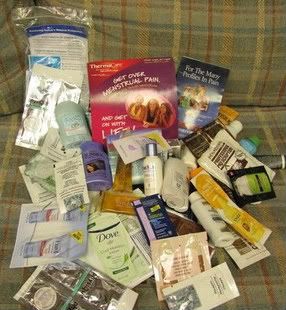 This is a picture of some of the health and beauty samples I have. My stash is made mainly of HBA items but I have laundry and food items, also. Using some of the goodies should save us a little money here and a little money there and what's not to like about that?
Some of the items we simply won't use and those are going to be listed on
Freecycle
. Surely someone can utilize them, huh? If they aren't picked up they'll go to the local shelter.
Do you have samples and freebies lying around? If so, this might be a good time to gather them up and use them or give them to someone who will. You might save a little money, free up a little space, or give a little help and those are all good reasons to get the freebies and samples together.