I work 3:30 to 9:30 tonight and though I ate lunch, I've packed a box to take with me for snack/lunch break.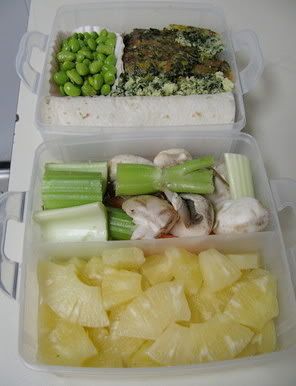 The top tier is leftover
crustless quiche
, a wrap leftover from a couple of days ago, and some edamame. The bottom tier is pineapple and raw vegetables. I have a sidecar of
artichoke dip
for the vegetables. I probably won't eat much of the pineapple but a bite here and there makes for a nice treat. And since I generally share with others, I'm packing more than I can eat.