We went to Dallas on the third and on the fourth we had a large family get together. There was a lot of food but I got no pictures of it. Why? Because I used my digital camera to get pictures of my niece and her beautiful children. They came in from Iowa and it was wonderful to see them. This was my first time to see her identical twin boys, Logan and Dylan. Unfortunately, I can't always tell which boy is which but here is a picture of my mother, the boys, and their sister Paige.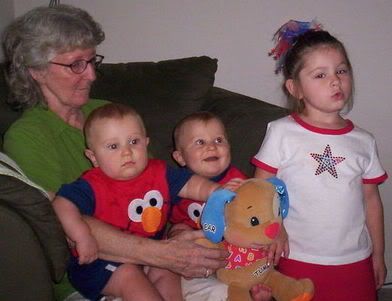 Aren't they just too cute??
Dinner tonight was light, easy, and thrifty. I sliced a little turkey smoked sausage and put it in the wok with some barbecue sauce. I heated it through and had mine rolled up in a low carb tortilla. The others will have theirs with baked potatoes and salad. After the amount of food we ate yesterday we need to eat fairly light for a day or two.