We had yet another storm roll through east Texas yesterday and it took out our router so we had no internet access until this evening after we went to town, in another storm, and bought a new router. We're up and running again and tonight's dinner is a repeat of last night's dinner.
Tomorrow afternoon we head to Dallas for my family's 4th of July shindig so I won't post again until Wednesday evening sometime. We'll probably have leftovers that night, too, but we'll see.
So last night's dinner was slow cooker chicken dressing made with leftover chicken and served with green beans and butternut squash. Originally, we were going to have leftover cabbage with it but that got eaten at lunch and I remembered we had a squash from the garden that needed to be used.
I looked at several recipes for slow cooker chicken dressing and although none were really complicated, they seemed to require too many ingredients, ingredients I don't keep around, or those I just didn't want to use in it. So, I just mixed it up as I do for oven baking and added more water so it would be plenty moist for slow cooking.
Here's how I did it:
First I made a batch of cornbread using my former mother in law's old recipe that never fails me.
1 cup flour (whole wheat works fine)
1 1/2 cups corn meal
1 1/2 tsp baking powder
1 tsp salt
1 tsp sugar
1 egg, lightly beaten
1 1/2 cup sweet milk (note that sweet milk is just plain old milk - reconstituted powered or canned work fine)
Mix all ingredients and pour into a lightly greased pan. Bake at 425 til golden brown.
When it was cool enough to handle, I crumbled the cornbread into a large glass bowl. I added some chopped green onion, 2 Tbsp sage, 1 tsp. garlic powder, 1/2 tsp. pepper, 1 Tbsp. Knorr's Chicken Bouillon, 1 egg, and three cups of water. If you have chicken broth, you can use three cups of that and omit the bouillon and water. I buy a 2.2 lb container of Knorr's bouillon at a hispanic market and often use the bouillon mixed with water instead of broth. It's quite a bit saltier than broth so I reduce or eliminate other sodium containing ingredients. I mixed everything well with just-washed hands then added leftover garlic roasted chicken from a few nights ago, about 3/4 cup. I mixed the chicken in well and spooned the gloppy mess into the crock of the slow cooker. I cooked it on HIGH for an hour then turned it to LOW for the rest of the afternoon.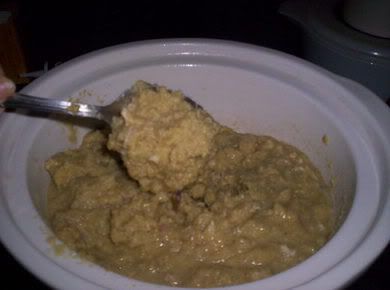 A few minutes before dinner time, my other half made cream gravy which we put on the chicken dressing. I hadn't had butternut squash in a long time and my other half hadn't ever eaten it. So, I put it in a baking pan and baked it for about 15 minutes at 300 then took it out, added butter and Cook's Choice Gourmet Spice Seasoning to it and put it back in the oven for about 25 more minutes.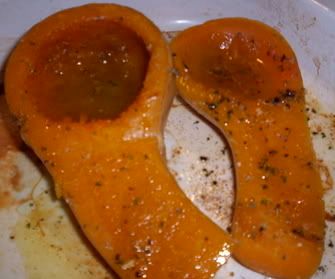 It turned out pretty well and the other half said the taste was good but he didn't like the texture - it was akin to very dry sweet potato. Perhaps it cooked too long. Regardless, he wasn't too impressed.
Do you have a favorite recipe for butternut squash? If so, please share as we have more growing and I hate to waste it...