I got a new toy today and after testing it to make sure it worked properly, I decided to use it to make dinner. Here's my new toy... do you know what it is?
It's a beautiful Cook's Essentials 8 quart electric pressure cooker! I love cooking with pressure and have a 6 quart stove top model but this one is bound to be my new favorite. Not only was it a
great deal
(at about 1/3 of the normal cost) it has some really nice features like a removable cooking pot for cleaning ease and a browning feature. It will even keep food warm. If you've ever wanted a pressure cooker or if your old one is about to give it up or if you've wanted a digital one, you might want to look at this one. No, I don't get a thing for suggesting it to others - I just think this is an incredible deal and want to pass it on. By the way, although there are apparently several hundred to sell eventually they'll be gone.
So, I gave the cooker a
water test
and once I was sure it came to pressure properly I prepared the vegetables and chicken for dinner.
I rinsed and cut fresh green beans, onions, and zucchini from the garden and carrots from the local grocery in large pieces. Then I lightly seasoned them with Cook's Choice
Brisket Rub
and set them aside.
I rubbed a whole raw chicken well, inside and out, with the same rub I put on the vegetables, put about a tablespoon of EVOO in the cooking pot, set the cooker for browning and when it was hot, placed the chicken in the pot.
About 10 minutes later, I flipped the chicken over and was very pleased to see how well it had browned.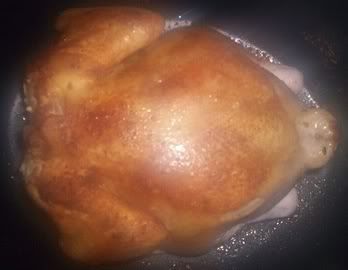 When it was brown on both sides, I drained the oil from the cooking pot, added 1 cup of water, and tossed the raw vegetables on top of the now browned chicken.
I put the lid on, set it to pressure cook for 25 minutes and walked away. It took very little time to come to pressure, probably because I'd done the water test in it before cooking the chicken so it was already hot. When the timer went off 25 minutes later, I let it go through a natural release and about 15 minutes later when it beeped to let me know it was finished, I removed the lid and was greeted by a beautiful sight.
This was some of the most tender and juicy chicken I've ever eaten and the flavor was fantastic thanks to the brisket rub. I followed the suggestion from the owner's manual to put 1 cup of liquid in with the chicken and I wasn't impressed with the boiled effect that gave the chicken, though the horde ate it up. With my stove top model, I can get by with less than a cup of liquid and the finished product has close to two cups of liquid but thanks to 'anonymous' for letting me know I need to use at least 1 cup of liquid. I think I'll try something other than water - that might not change the boiled effect but it might be good, anyway. And the finished product had more than three cups of liquid with it. No wonder it seemed boiled...ah well, I can't have perfection!
All in all we really enjoyed the chicken and vegetables and after we'd eaten our fill I de-boned what was left and put it in the fridge. It will make great leftovers!