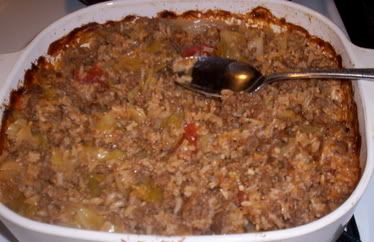 Tonight's main dish is Cabbage Casserole. It wasn't on the menu but we had a head of cabbage in the fridge and needed to start using it. With it we're having corn on the cob (not from the garden, unfortunately, but fresh nonetheless) and garlic toast.
Here's the original recipe and my modifications to it:
1 1/2 lbs ground beef or turkey (I've used as little as 1/2 a lb)
1 tsp cooking oil (I omit this)
1 onion chopped
1 tsp salt
1/8 tsp pepper
3/4 cup long grain rice (wild rice is great, too)
1 can tomato soup (I use ketchup mixed with water)
1 can mushroom soup or homemade equivalent
1 soup can water (I use one can of stewed tomatoes instead)
3 cups cabbage, shredded (I just slice it very thin rather than shred it)
Preheat oven to 350. Brown the meat and add onion, salt, pepper and rice. Add soups and water and mix well. Put cabbage in the bottom of casserole dish (lasagna pan works well) and pour meat and soup mixture over cabbage. DO NOT STIR. Bake covered for 1 1/2 hours.
We really like this recipe. It's thrifty, makes a lot, and is easily adaptable to ingredients on hand. I've made it with ground beef, ground turkey, ground chicken, and homemade turkey sausage and all were very good. It's even good with leftover chopped cooked chicken or beef rather than ground meat. Sometimes I make it with cream of celery or cream of chicken soup or just a basic white sauce - it just depends on what I have on hand or what I feel like whipping up. We don't eat tomato soup and I don't buy it just for recipes. If I need some for a recipe I mix 1/4 cup ketchup with a cup of water. It's close enough and works fine in recipes.
This was a great main dish and there's enough left for lunch tomorrow. And that's a good thing!
I have five meals left on the menu and only need to make one tomorrow night before I make my new menu. Here are the choices:
Dutch hats served with vanilla yogurt and fresh strawberries
Biiiig salads made with fresh garden vegetables, cheese and turkey ham
Taco squares, black beans, and tomato salad
Hamburger steak and gravy, green beans, tossed salad, and popovers
Poor man's steak, baked potatoes, and green beans
I think we'll have the poor man's steak with baked potatoes and green beans. The other four dishes will be carried over to the menu for the next two weeks.