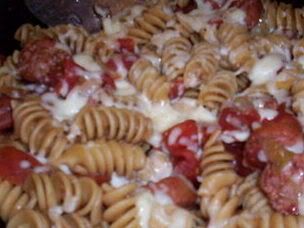 The oncoming deluge of rain (and the fact that we may very well be stuck in our house for a day or two and were out of a couple of necessities) drove us to the grocery today and while there, I picked up a recipe in the meat section. It's called Sausage and Pasta and it looked so easy and quick I decided to make it for dinner. The recipe called for a couple of items I didn't have but I knew I had decent substitutes for them. So, I made it for dinner and it was a hit! Well, the man person isn't wild about it but he did eat it. He isn't wild about pasta and tomato anything but he doesn't gripe about eating it as long as I don't serve it very often.
So here's the original recipe with the substitutions in parentheses.
Sausage and Pasta - a
Brookshire's
Best Recipe
1/2 lb pasta, such as rotini, uncooked (I used whole wheat rotini)
3/4 lb Honeysuckle Italian sausage, outer casing removed (I used sliced smoked turkey sausage)
1 onion, chopped
1 28 oz can tomato puree (I used a can of store brand roasted garlic diced tomatoes)
1/2 tsp black pepper
3 Tbsp chopped fresh oregano or 1 1/2 tsp dried
3 Tbsp chopped fresh basil or 1 1/2 tsp dried
1/2 cup shredded reduced fat mozzarella cheese (I didn't measure this but was close)
Cook pasta according to package directions. Drain and set aside.
Heat a large nonstick skillet. Saute the sausage for 5-8 minutes, stirring constantly and breaking apart into bite-sized pieces, and then add onion. Allow to brown well. Drain any excess grease. Stir in tomato puree and pepper. Simmer 10 minutes and then add the cooked pasta, oregano and basil. Heat completely and then top with shredded cheese. Cover 5 minutes to melt cheese. (I didn't do this as the cheese melted almost as soon as it hit the pasta)
We had this with a tossed salad just loaded with goodies from the garden. And while this dish was good, it isn't something we'll eat weekly or even bi-weekly though I imagine it will grace our table once every few weeks.