Two of them, anyway. The squash fruit are mushy and almost moldy looking on the end. Here's a picture of a 2 inch long squash I picked just a few minutes ago.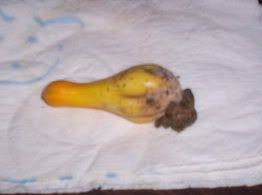 Although I found
Squash Bugs
on another plant across the yard, I see no evidence of them on the plant that produced this thing. The leaves aren't the best looking, though. They're kind of brownish. Maybe it's
Squash Vine Borer
. Whatever it is, I need it to go away and fast.
I posted a message about it at gardenweb.com and included a photo. Maybe someone there can help me identify the issue and I can figure out what to do about it.
How disappointing! I love squash and was looking forward to a nice big harvest of it.
Okay, I just read up on this and it looks as though the squash might not have been pollinated well. I'm going to see what else I can learn about that.