Well over a year ago, my other half enclosed a corner of our large porch to make a pantry for me. We stock a lot of food and really needed the storage space. But rather than build shelves for me as we'd planned he started putting "stuff" in the pantry and it quickly became "the pantry that wasn't". I mentioned it a few times but really don't want to nag so I didn't squeal too much over it. Finally it all came to a head a few days ago and the next day he spent most of the day in there putting up shelves and organizing. He's going to put more shelves in and I'll more than likely rearrange parts when he does but I was and still am thrilled! I actually have a pantry now and it's going to be wonderful, I'm sure.
This was the pantry a few months ago, looking bad but not as bad as it did a few days ago - trust me, it was a real cluttered mess.

And here are some shots of how it looks now.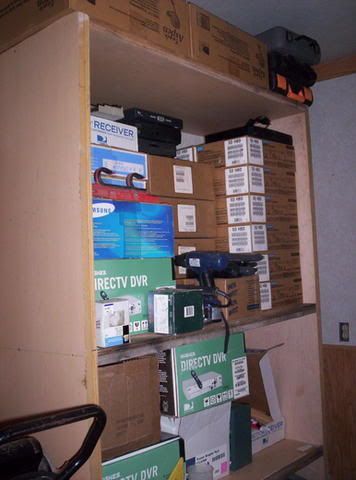 This shelf has my other half's satellite tv installation equipment on it.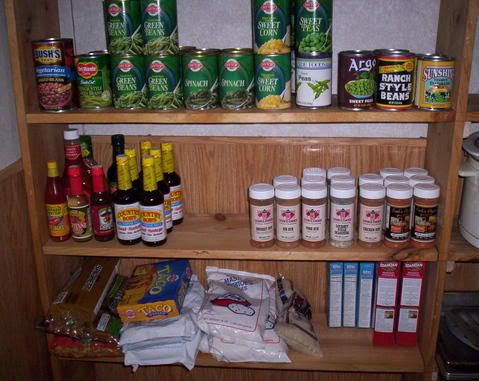 Here are a few of our canned goods, seasonings, and condiments along with other dry goods.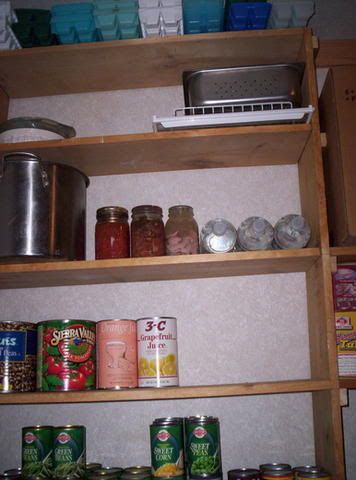 Here's another shot of some canned items.
Here are some of our appliances that were taking up a lot of kitchen space.
And here are miscellaneous appliances and pans.
I think I'm really going to enjoy having so much stuff in the pantry and out of the kitchen. Right now I'm painting the cupboards with Kilz getting them ready for paint soon so some of the cupboard doors are off and we took this opportunity to move almost all the food into the pantry. I'm giving serious thought to keeping most of it in there and using the kitchen cupboards for very often used appliances and the most often used food items. I've also considered leaving the cupboard doors off but if I do that, everything must be so tidy inside the cupboards so that probably isn't the best idea for me.
Anyway, having the pantry cleaned out makes working on the kitchen so much easier! Now if I can just figure out what to do with the kitchen...
Do you have a pantry? If so, do you have pictures of it? Show me, if you do. :)