I'm on the prowl for a low carb bread that tastes good, is filling, and doesn't spike my blood sugar. Apparently I'm asking for the moon! No matter, I'm still on the hunt and I might have found the bread for me. I still have another one to try (and no, I won't yet say which one) but so far Julian Bakery's
Smart Carb #1
is definitely number one.
My Type 2 diabetic sister and I ordered five loaves with two being sent to her address and three to mine. My three loaves of bread arrived Friday, one loaf of Smart Carb #1 and two loaves of Cinnamon Almond Raisin bread. I was so excited when I got home from work and found the box I ripped right into it! The loaves were beautiful, baked and sliced to perfection, and on the heavy, dense side but I like that in bread. And though they'd been in transit three days, they still smelled wonderful..like bread!
I wanted to try a slice, toasted, right then but the man person wanted to go out to eat since he was wasting away. I didn't want to shoot insulin as it would interfere with the bread test so I had a theoretically low carb dinner of baked fish, broccoli, Italian salad with no dressing, and spinach. Interestingly, the BG was a little too high two hours later so, I waited until it was at 130, still high but not horrendously so, and began my ritual for testing the bread - wash the hands, open the package, take out one slice of bread and close the package, feel the weight of the bread, smell the bread, etc. Then I put the bread in the toaster and waited. Not patiently, I might add! Oh no, I was salivating as I bounced from foot to foot in front of the toaster.
Keep in mind that other than
Ezekiel Whole Grain Flourless
every bread I've tried over the last nine years has caused a major spike for me (and Ezekiel bread spikes me now) and one slice means a pretty hefty injection of fast acting insulin 45 minutes before eating it or a very high blood sugar level. As much as I enjoy bread, I'm trying to keep the insulin use to a minimum while keeping the blood sugar under control so bread is something I simply don't eat. The possibility of bread that doesn't spike me is momentous, people, simply gargantuan! I'd love to have the occasional piece of toast or sandwich and the issue of boredom with eating to my meter can be substantially reduced with a bread that doesn't cause spikes.
The bread popped out of the toaster after what seemed like hours. It didn't have the lovely golden appearance toasted bread gets so I put it down in the toaster again and resumed my antsy salivation and bouncing routine.
Finally, the bread popped out again. It still didn't have that golden appearance toast gets. I imagine that's partially because of the lack of sugar in the product but it could also have been that I simply didn't toast it long enough. Regardless, the bread was hot and felt toasted, even if it didn't look it. I spread 1 teaspoon of the Smart Balance spread on the toast and stood there, savoring the appearance of the bread on my plate. Real bread! And I was about to eat it!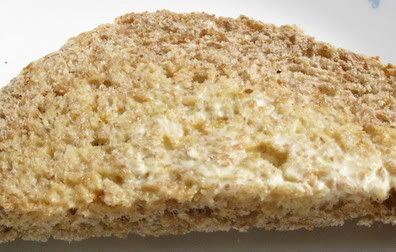 I waited until the spread had melted a little and took my first bite. Oh my! The bread had a slight crunch to it and the dense texture was welcome to my mouth. The taste was very good, slightly nutty and not at all sweet, but not salty, either. It reminded me of Ezekiel bread but was much better and, as I'd suspected, with twelve grams of protein and twelve grams of fiber it was very filling. By the time I had eaten the entire slice I was very satisfied.
I thoroughly enjoyed the bread but more than that, I enjoyed the effect on my blood sugar. At one hour, my blood sugar was 12 points higher than before eating the bread and at two hours the blood sugar was only six points higher. Even better, at three hours, the BG was four points
lower
than before I ate the bread. Amazing! Unless you've been deprived of a food you enjoy and find a substitute that satisfies you, you probably don't understand the enormity of this. My life is about to change....french toast is in my near future!
I put a few slices in the freezer and will leave them for a week to see how they stand up to that. Since I don't need or want to eat the entire loaf quickly and the bread is made with organically grown ingredients and isn't loaded with preservatives I need a way to keep it around longer. We'll see how freezing works.
Will I buy this bread again? More than likely. It looks great, smells fantastic, tastes marvelous, isn't loaded with ingredients I can't pronounce, and doesn't spike me. The only drawback to this wonderful product is the price - at $7.99 per loaf (plus shipping) it's not what I'd call "reasonable" but if paying that will allow me to have a slice of toast or the occasional sandwich without damaging my body it's definitely worth the money. And Julian Bakery offers discounts on multiple loaves which is a plus if the bread freezes well.
If you're low carbing or if you're diabetic, do give this bread a try. I don't think you'll be sorry you did.
And
here's
what I did with Julian Bakery's Cinnamon Almond Raisin bread, which appears to no longer be available.