A tweet from
Fredlet
earlier today:
Bento Box Egg Thing:8 eggs, 1/4c cream, 1c parmesan, bacon bits, frozen spinach. Mix together; in silicone cupcake cups, bake @ 350 15mins.
I knew as soon as I saw it this was something I wanted to try and although we're sick I wanted to try it today. It's low in carbs, very quick and easy and amazingly, has no weird or hard to find ingredients. That latter feature is a real plus to me.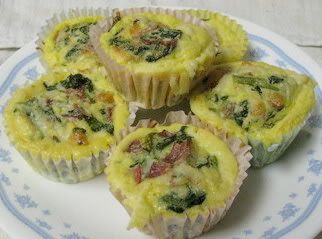 Yeah, I'm anti-weird-or-hard-to-find-ingredients. I don't have silicone baking cups so I used my old metal cupcake tin and cupcake papers. I cut the recipe in half, used turkey bacon, half and half rather than cream, and used a combination of parmesan, jarlsberg, and mozzarella cheeses and the result was 6 delicious and filling little gems.
I can't wait to make these again for my work bento. I plan to spice the recipe up a little next time, adding chopped onion, different cheeses, and spices. I might even try making a sweet version of this.
I highly recommend these delicious low carb treats! And if you're in the market for low carb food ideas, check my
ever growing list
and feel free to share your favorites.