Corn chip chili pie is one of my favorite cold weather recipes. I'd planned to have it for dinner one night this week but made it today for lunch instead in an attempt to ward off hunger and the desire to go buy Chinese food at $20 for the two of us.
It turned out very well and I think the addition of a little pico de gallo to the top of the pie was one reason. I got busy while it was cooking, though, and left it in the oven a little too long. Fortunately, that didn't seem to hurt it much.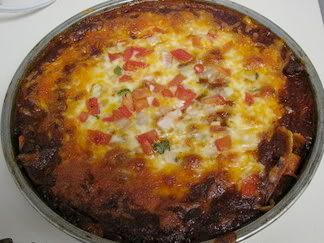 I'm still adjusting to the new camera and having problems getting all of what I want in the picture but I think the photo isn't too horribly bad. Is it?