I still don't feel well but needed to make the Corn-Squash Bake I started last night so I did that. I also made stir fried garlic green beans with beans from the garden and baked new Yukon Gold potatoes, also from the garden. Rarely do I eat potatoes and even more rarely do I eat them two days in a row but since my throat feels like it's on fire and eating is very difficult, I'm happy to be able to choke anything down and soft food is all I can eat.
We're not big on casseroles, in general, but this one is very easy, tasty and frugal, especially if you have a garden with squash, corn and onion. The recipe is from the More With Less Cookbook by Doris Janzen Longacre.
Corn-Squash Bake
Preheat oven to 350.
Cut in 1 inch rounds:
3-4 medium zucchini squash or other summer squash, unpeeled.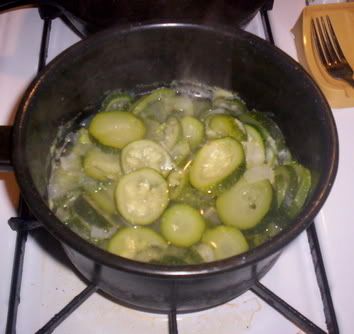 Cook in small amount of water until tender. (This time I
cooked the onion with the zucchini)
Drain and mash with a fork.
Saute:
1 T butter
1 small onion, chopped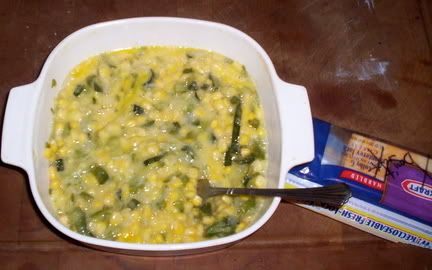 Combine:
mashed squash
sauteed onion
2 cups corn (Tonight I used canned, though I normally use fresh or frozen)
1 cup shredded Swiss Cheese (I used Colby Jack cheese tonight)
1/2 t. salt
2 beaten eggs
Turn into 1 qt greased casserole.
Combine and sprinkle on top:
1/4 c dry bread crumbs (I used cracker crumbs tonight)
2 T grated Parmesan cheese
1 T melted butter
Place casserole on baking sheet and bake for 40 minutes.
When cooked, let stand 5-10 minutes before serving. Normally, it comes out a little prettier, but one of the kids checked it while it was cooking and stirred it around then patted it back down, thinking I wouldn't be able to tell. Kids! ;)
There's just enough of it left for one or two of us to have it for lunch tomorrow. And this dish freezes very well, so if your family likes it, make a double or triple batch and freeze the remainder for a future meal or two.